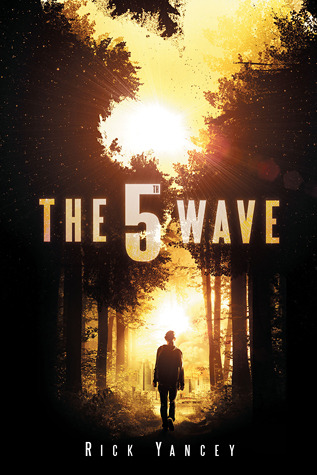 Buy it at: Amazon l BookDepository l Chapters/Indigo l Barnes&Noble
Synopsis from Goodreads:
After the 1st wave, only darkness remains. After the 2nd, only the lucky escape. And after the 3rd, only the unlucky survive. After the 4th wave, only one rule applies: trust no one.
Now, it's the dawn of the 5th wave, and on a lonely stretch of highway, Cassie runs from Them. The beings who only look human, who roam the countryside killing anyone they see. Who have scattered Earth's last survivors. To stay alone is to stay alive, Cassie believes, until she meets Evan Walker.
Beguiling and mysterious, Evan Walker may be Cassie's only hope for rescuing her brother—or even saving herself. But Cassie must choose: between trust and despair, between defiance and surrender, between life and death. To give up or to get up.
My Non-Spoiler Thoughts
I did not know much going into this book, only that it had to do with some sort of alien apocalypse. And that it is being made into a movie starring Chloe Grace Moretz. So really I read this book for the fact that I needed to say I read the book before the movie. A lot like I did for the Hunger Games.
In the beginning the book starts off slow, and the flow of it may be a little confusing especially when it changes point of view. But then if you can conquer through (like I) you will not be able to set the book down.
I don't normally read alien or apocalypse types of books or any sci-fi in general, but this book got me into it.
What I liked
Oh my God, this book is good. It is so well written and the plot line is perfect. The main characters are also amazing. I love Cassie and how Rick Yancey (a male) was able to write a female character so well and so likable. There is also a lot of great action in this book and some great mind twists as well.
The movie is going to be fantastic.
What I didn't like
I don't particularly have patience for books where there are different characters points of view. I wasn't expecting this book to have any different viewpoints, but it did and the first time it happened was a little odd. I found the transitions a little hard as I had no idea who was speaking until about a couple pages in and so sometimes I was wrong and pictured the wrong image. That part was the only frustrating point in the book.
Overall, ten out of ten I'd recommend this book. If you are unsure about sci-fi like books, apocalypse style, or even aliens but are looking to try it, this book would be perfect for you. As I am all of the above and I ended up liking it.