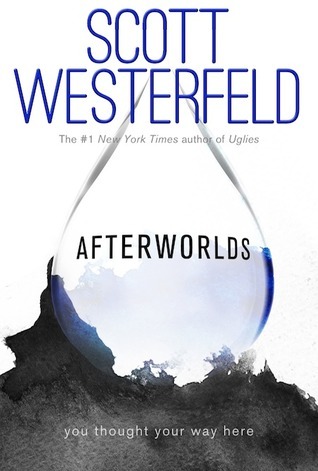 Buy it at: Amazon l BookDepository l Chapters/Indigo l Barnes&Noble
Synopsis from Goodreads:
Darcy Patel has put college and everything else on hold to publish her teen novel, Afterworlds. Arriving in New York with no apartment or friends she wonders whether she's made the right decision until she falls in with a crowd of other seasoned and fledgling writers who take her under their wings…
Told in alternating chapters is Darcy's novel, a suspenseful thriller about Lizzie, a teen who slips into the 'Afterworld' to survive a terrorist attack. But the Afterworld is a place between the living and the dead and as Lizzie drifts between our world and that of the Afterworld, she discovers that many unsolved – and terrifying – stories need to be reconciled. And when a new threat resurfaces, Lizzie learns her special gifts may not be enough to protect those she loves and cares about most.
My Non-Spoiler Thoughts
This book is like my spirit animal right now. I am currently undertaking the challenge of writing a book in a month thanks to NaNoWrimo. I read this at the beginning of the month and now I am ahead in my word count for the day. There are two stories in this book. One is Darcy as she learns about they ways of publishing and writing a book. The other is Lizzie who is the MC of Darcy's book, an awesome paranormal romance. Together they work brilliantly but the same goes if you read them on their own.
What I liked
How this book inspired me cannot be fathomed into words. This book shows me it is possible to write something good in a month. It will help me more when I am done with the month. Hopefully I will find the time to edit and find an agent to help get my story out there. This is all thanks to Darcy who is an amazing MC.
There is so much diversity in this book. And depth as well.
There is also great advice for those on their own journey of writing a novel. Whatever step you are at in the journey this book can lend you the help you may need.
I have also learned what I should say to an author if I ever were to meet one.
What I didn't like
I would have loved more information about the beginning. I wanted to know more about Darcy's journey of finding an agent and getting a publishing contract.
Also, at times I found Darcy's story more interesting then Lizzie's and that kind of upset the pace of the book. I like paranormal romance and all, but there were just some parts that were not interesting. Well not as interesting as someone getting their book published.
Overall though I highly recommend this book. It is amazing and inspiring. I especially recommend this to aspiring authors of any age (ok maybe not five year olds).