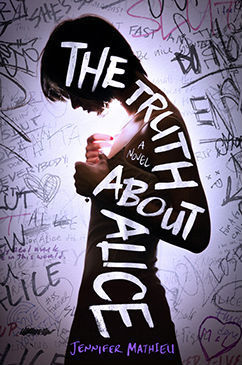 Buy it at: Amazon l BookDepository l Chapters/Indigo l Barnes&Noble
Synopsis from Goodreads:
Everyone knows Alice slept with two guys at one party.
But did you know Alice was sexting Brandon when he crashed his car?
It's true. Ask ANYBODY.
Rumor has it that Alice Franklin is a slut. It's written all over the bathroom stall at Healy High for everyone to see. And after star quarterback Brandon Fitzsimmons dies in a car accident, the rumors start to spiral out of control.
In this remarkable debut novel, four Healy High students—the girl who has the infamous party, the car accident survivor, the former best friend, and the boy next door—tell all they know.
But exactly what is the truth about Alice? In the end there's only one person to ask: Alice herself.
My Non-Spoiler Thoughts
This book is told in a couple main point of views. Some I liked and others just were too boring or annoying. The storyline for this book is great. Alice becomes the object of everyone's attention, something had happened and nobody knows the full story, just what the rumors say.
What I liked
I liked how it wasn't just one person telling the full events. There are a couple people who together help you to piece together what truly happened.
I liked how the information came slowly and that not everything had been thrown on the table from the getgo.
The hidden meaning to this story is great too. It's all about how cruel rumor's can become and how what you say can really go a long way. Also, it shows how cruel some people can be.
What I didn't like
Not everything was concluded. And, the ending was disappointing. All this lead up and it just doesn't fit. Especially the last chapter which doesn't fit with the story line.
I'd expected something with a lot more of a deeper impact then what I got from this book.
Lastly, the characters seemed to blend together as the way they were written made it easy to confuse whose point of view you were on.
Overall, this book was mediocre. It's a good book to check out, but I don't fully recommend it. I didn't enjoy all too much.