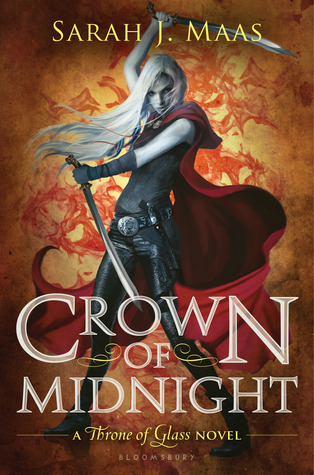 Buy it at: Amazon l BookDepository l Chapters/Indigo l Barnes&Noble
Synopsis from Goodreads:
From the throne of glass rules a king with a fist of iron and a soul as black as pitch. Assassin Celaena Sardothien won a brutal contest to become his Champion. Yet Celaena is far from loyal to the crown. She hides her secret vigilantly; she knows that the man she serves is bent on evil.
Keeping up the deadly charade becomes increasingly difficult when Celaena realizes she is not the only one seeking justice. As she tries to untangle the mysteries buried deep within the glass castle, her closest relationships suffer. It seems no one is above questioning her allegiances—not the Crown Prince Dorian; not Chaol, the Captain of the Guard; not even her best friend, Nehemia, a foreign princess with a rebel heart.
Then one terrible night, the secrets they have all been keeping lead to an unspeakable tragedy. As Celaena's world shatters, she will be forced to give up the very thing most precious to her and decide once and for all where her true loyalties lie…and whom she is ultimately willing to fight for.
My Non-Spoiler Thoughts
Oh, how I love this series. These books are just amazing. Sarah J Maas is such a fantastic writer. There is just so much going on in these books that just keep me enthralled from the first page. Actually it's the map that gets me excited. The first book ended perfectly. With just enough suspense to get me to read the next book but not too much that I would have stubbornly not read the next book in order to protest the incomplete ending. This review will include spoilers from the first book so I don't recommend that you continue reading if you hadn't read the first book yet. There are none from this book though, so you needn't worry.
What I liked
Where to begin. How about I talk about my thoughts on our new character. Archer is someone from Celaena's past and she is sentenced by the King to kill him. When he was first brought up I was a little annoyed that he hadn't even been mentioned in the first book, but that may be because it wasn't necessary to the plot at the time. He did however make this book more enjoyable. If it had been the same characters I wouldn't have liked it. With sequels, new characters keep them fresh and interesting. I wanted to get to know Archer more. I found myself really interested whenever he was mentioned.
Then there's the new plot. As Celaena is not the King's Assassin, there is no more competition. Which had been what the first book was about. This one however is how she deals with having to kill for the King. It's full of some great character growth. She really is beginning to become more humane.
In the first book magic doesn't play as much of an impact as it does in the second book. I love magic, and the fact that this book includes it more makes me more excited for the next book which would surely include even more, since the plot really makes it evident that it is a necessary article to the final conclusion.
What I didn't like
Sometimes Celaena just didn't seem real. Of course she is a little different (how many girls are young assassins), but at times I just didn't feel like her actions suited her personality.
Also, there is some death in this book that I didn't like and I felt it very unnecessary, just like I felt about Hedwig in Harry Potter.
Then, lastly I felt the love triangle was just getting a little carried away at times. I had hoped it would end in the beginning of this book, but you can't always have that. But, I don't even know who I'd prefer for her anyway. Maybe it's a good thing then.
Overall, I can't wait to finish Heir of Fire and for Sarah J Maas to release the fourth book in the series. If you like serious kick-ass characters, particularly of the female gender, this book is for you.