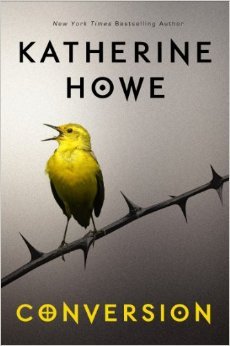 Buy it at: Amazon l BookDepository l Chapters/Indigo l Barnes&Noble
Synopsis from Goodreads:
It's senior year at St. Joan's Academy, and school is a pressure cooker. College applications, the battle for valedictorian, deciphering boys' texts: Through it all, Colleen Rowley and her friends are expected to keep it together. Until they can't.
First it's the school's queen bee, Clara Rutherford, who suddenly falls into uncontrollable tics in the middle of class. Her mystery illness quickly spreads to her closest clique of friends, then more students and symptoms follow: seizures, hair loss, violent coughing fits. St. Joan's buzzes with rumor; rumor blossoms into full-blown panic.
Soon the media descends on Danvers, Massachusetts, as everyone scrambles to find something, or someone, to blame. Pollution? Stress? Or are the girls faking? Only Colleen—who's been reading The Crucible for extra credit—comes to realize what nobody else has: Danvers was once Salem Village, where another group of girls suffered from a similarly bizarre epidemic three centuries ago . . .
My Non-Spoiler Thoughts
To be frank this book took me a while to get truly into it. Somehow the characters just weren't sticking to me. I was finding trouble staying interested. Then, things started to click together and major suspense caused me to pull an all-nighter to finish this book. In the end I was very satisfied, more so then I ever thought I would be.
What I liked
What made this book for me would be that it was inspired by true events. And this book was so dark and mysterious that it really was terrifying at times to read as I know that parts of this book really did happen.
I can't write a review about this book without mentioning it's ties to The Crucible. I'd not heard much about this story until late when my friend was in the play for our school. I found really ironic that as I was reading this book that this play I'd just heard of played a major impact on this story. I hadn't read the books synopsis before I'd picked it up so I didn't know what to expect except that it was dark and had to do with witches somehow. The Crucible would probably not be something I'd be interested in reading, but this book highlighted it for me and in ways made me understand it and really think about it.
On to the real story, where things just weren't looking good for the St. Joan's girls. A lot of it was dramatic in the sense that some things didn't add up and were slightly dramatized, but that's just what made this book for me. It correlated perfectly to The Crucible and the little chapters from the Salem Witch Trials that were thrown in. It was like I was reading two books in one.
What I didn't like
The beginning was sort of weak. I just couldn't connect with the main character; she just seemed annoying. It wasn't like she was whining all the time, it was like I just didn't quite like her. I couldn't sympathize with her. When the major events finally took place, the main character finally became relateable and actually had some major character growth truly making the book.
Then, the last thing I didn't particularly enjoy was that some bits at the end weren't properly closed off. Or they just were closed of oddly. I felt a little disappointed with the outcome of one problem and I wished it'd been done differently. Not all endings though are conclusive, but I just wished this one would've been as I really did find myself enthralled in the story.
Overall, this book was very thrilling and a great book to read during this particular season. I may just find myself re-reading it on Halloween night as it is just creepy enough to keep me up at night. Or maybe it's the fact that I just can't get over the ending. Either way, it's a very spooky read but not too much that those who can't stand horror books (like Stephen King's) would be able to read.