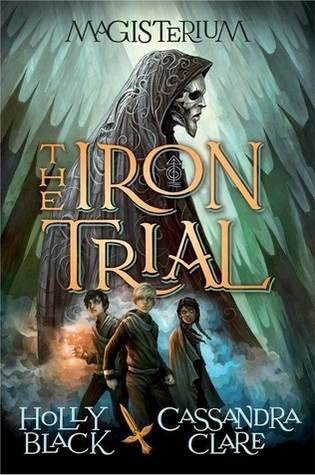 Buy it at: Amazon l BookDepository l Chapters/Indigo l Barnes&Noble
Synopsis from Goodreads:
From two bestselling superstars, a dazzling and magical middle-grade collaboration centering on the students of the Magisterium, an academy for those with a propensity toward magic. In this first book, a new student comes to the Magisterium against his will — is it because he is destined to be a powerful magician, or is the truth more twisted than that? It's a journey that will thrill you, surprise you, and make you wonder about the clear-cut distinction usually made between good and evil.
My Non-Spoiler Thoughts
In the beginning I thought, "Oh boy, this sounds like it's going to be a lot like Harry Potter," but then I got halfway into the book and the only relations were that there was magic, a golden trio, and the school they attend is for magic. Not much else is relateable. If anything this book veers far from any relation between the two.
What I liked
The cover of the ARC explained why Cassandra Clare and Holly Black wrote the book, and in it they stated that they had wanted to lead the reader into thinking they were reading one book and then surprising them at the end. This book definitely surprised me. Normally I would get annoyed with books that have a huge plot twist because I end up being able to guess the ending and it usually makes me disappointed. This book however ended one way in which I had least suspected it to. It left me loving the book when in the beginning I was a tad thrown off.
All of the characters were very well written, I could imagine them all in real life. They were all hands down a great cast for this story and I can't wait to see them all grow through the rest of the series, which I am certain there will be more books to come.
What I didn't like
The beginning was a little bland and it was hard for me to get absorbed into the story. I wasn't staying up late and pushing aside homework to read this book until nearly more than mid-way through. However, once I got there it was nearly impossible to put the book down.
So, in conclusion, I didn't like the beginning but I loved loved loved the ending. Basically if you find yourself wanting to not finish this book or you really don't think you're going to like it, trust me the ending is worth it.