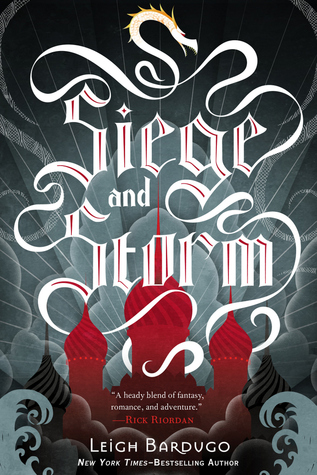 Buy it at: Amazon l BookDepository l Chapters/Indigo l Barnes&Noble
Synopsis from Goodreads:
Darkness never dies.
Hunted across the True Sea, haunted by the lives she took on the Fold, Alina must try to make a life with Mal in an unfamiliar land. She finds starting new is not easy while keeping her identity as the Sun Summoner a secret. She can't outrun her past or her destiny for long.
The Darkling has emerged from the Shadow Fold with a terrifying new power and a dangerous plan that will test the very boundaries of the natural world. With the help of a notorious privateer, Alina returns to the country she abandoned, determined to fight the forces gathering against Ravka. But as her power grows, Alina slips deeper into the Darkling's game of forbidden magic, and farther away from Mal. Somehow, she will have to choose between her country, her power, and the love she always thought would guide her–or risk losing everything to the oncoming storm.
My Non-Spoiler Thoughts
This book is the second in The Grisha trilogy (see my review
 

of Shadow & Bone if you want to avoid spoilers from the first book). It is an absolutely stunning tale about Alina, the Sun Summoner, as she deals with the aftermath from the leading book and begin a new battle as she struggles with new power and her struggling relationship with Mal.
What I liked
I absolutely loved the feel I got from this book. It somehow reminded me of The Pirates of the Caribbean, most likely in the way that there is a lot of time spent on boats in this book. The rhythm of the transitions between events was also smoothly done and made me feel as I was reading that I was on a boat myself and the story was a wave slowly turning into that final crash as it reaches the finale.
Also, this was a great middle book in a series. Most of the time I find second books can be a little boring as not much really seems to happen, but I can promise you, there is a lot of exciting and major things going on in this book hence the waves.
Also I totally knew from the beginning who that one guy truly was. I totally called it.
What I didn't like
There is little I didn't like, I was basically hooked from the beginning to end. The only fault was that some characters were a little annoying but their antics were supposed to be that way for dramatics and to add more rhythm to the story no matter how much I wished it would've gone another way.
Overall, this is such a great series and I definitely recommend it, especially to those who love a good action filled high fantasy.