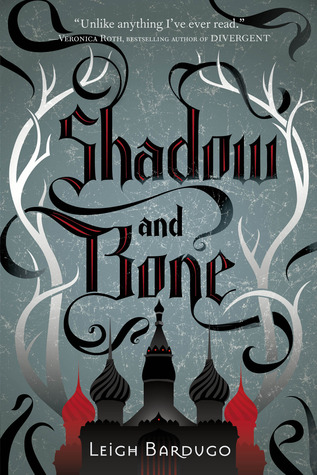 Buy it at: Amazon l BookDepository l Chapters/Indigo l Barnes&Noble
Synopsis from Goodreads:
The Shadow Fold, a swathe of impenetrable darkness, crawling with monsters that feast on human flesh, is slowly destroying the once-great nation of Ravka.
Alina, a pale, lonely orphan, discovers a unique power that thrusts her into the lavish world of the kingdom's magical elite—the Grisha. Could she be the key to unravelling the dark fabric of the Shadow Fold and setting Ravka free?
The Darkling, a creature of seductive charm and terrifying power, leader of the Grisha. If Alina is to fulfill her destiny, she must discover how to unlock her gift and face up to her dangerous attraction to him.
But what of Mal, Alina's childhood best friend? As Alina contemplates her dazzling new future, why can't she ever quite forget him?
Glorious. Epic. Irresistible. Romance.
My Non-Spoiler Thoughts
This book was enthralling. The writing was amazing and the characters were even better. I really enjoyed the Russian elements in this story as well. There was hardly anything I didn't like. From the beginning to the end I was on the edge of my seat.
What I liked
For the first book in a fantasy trilogy this book handled the world building better than any I'd read before. There weren't huge chunky paragraphs/chapters dedicated to explaining a certain way or a land. There was more doing than being said and that is what made this book so visual to me. I could see Alina, I could see the Darkling and I could see the world they were in, the clothes they wore and the way they spoke. In most books I can't always picture every scene, but in this book it was like I was watching a movie. The experience was undeniably brilliant.
I really enjoyed the order into which the Grisha are categorized, the colours they wear to differentiate themselves and the names they have as well. There was a page at the beginning that I would go back to so I knew what Grisha was being talked about. With some big words with letters that probably aren't supposed to be pronounced this guide came in handy.
What I didn't like
I didn't like one thing and that was how short it was, well felt. So much seemed to have gone down the —-pages then in a book of a larger size. Now that I think about it this is probably a great quality, but it kind've bothered me how short it'd felt. Maybe as I continue on to the next books in the trilogy it won't feel too short lived. This book is the first in a series so I have to give it that.
Overall this book was unbelievably brilliant. Anybody who enjoys fantasy is for certain going to love it. I have a feeling, just after reading book one, that the Grisha is going to be added to the top of my favourite trilogies ever. And believe me the competition is very tough. Let's hope this series ends on a high note unlike Allegiant did.