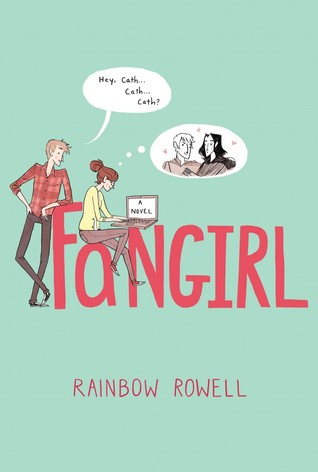 Buy it at: Amazon l BookDepository l Chapters/Indigo l Barnes&Noble
Synopsis from Goodreads:
Cath is a Simon Snow fan.
Okay, the whole world is a Simon Snow fan…
But for Cath, being a fan is her life—and she's really good at it. She and her twin sister, Wren, ensconced themselves in the Simon Snow series when they were just kids; it's what got them through their mother leaving.
Reading. Rereading. Hanging out in Simon Snow forums, writing Simon Snow fan fiction, dressing up like the characters for every movie premiere.
Cath's sister has mostly grown away from fandom, but Cath can't let go. She doesn't want to.
Now that they're going to college, Wren has told Cath she doesn't want to be roommates. Cath is on her own, completely outside of her comfort zone. She's got a surly roommate with a charming, always-around boyfriend, a fiction-writing professor who thinks fan fiction is the end of the civilized world, a handsome classmate who only wants to talk about words… And she can't stop worrying about her dad, who's loving and fragile and has never really been alone.
For Cath, the question is: Can she do this?
Can she make it without Wren holding her hand? Is she ready to start living her own life? Writing her own stories?
And does she even want to move on if it means leaving Simon Snow behind?
My Non-Spoiler Thoughts
This book is just amazing; there is no better word for it. Cath can be so relatable at times it hurts. Then there's the fan fiction aspect. I admittedly don't read fan fiction, anymore, but this made me want to go back to it. Back when Harry Potter had ended I read so many fan fictions based on the books, mostly ones relating to after the books had ended. I even wrote a bit of one too, but I never posted it. The thing about Fangirl is that it somehow finds a way to explain fan fiction and why people even began to write it in the first place. Even I didn't know why I ever read or wrote it, but after reading this book I finally knew.
What I liked
As an aspiring author myself, I loved how much I actually learnt from this book about writing. It gave me knew ideas. Sometimes I get really bad writers block and I'll read to get my mind off it and I never end up being able to go back to said story. This book however gave me solutions to all of my problems. And, I really enjoyed Simon Snow. Actually I enjoyed him a lot, so much that I'd read all eight books of his, if only it were real.
Then, there was the importance of family added to the story. Cath went of to college, so her parent(s) aren't needed anymore, yet (t)he(y) still is(are). Also, Cath and Wren's relationship just spews sisterly bond. Sure they can disagree and get upset with each other, but at the end of the day they still love each other. I liked how that was included in this book.
What I didn't like
How this book left me wanting more, more, and more. This really isn't a bad thing about the book. Honestly I just want Rainbow to write a sequel to this book or a spin-off. Even a novella.
Overall, I wholeheartedly encourage anybody to read this book. Even if you already had, read it again, and again. If you are hesitant about fan fiction or don't know what it is, check this book out. Or, if you love and adore fan fiction check it out. Or, if you are a living human being who can read (or listen to the audio-book) you should check it out.