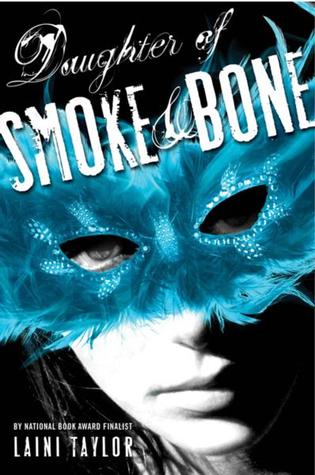 Buy it at: Amazon l BookDepository l Chapters/Indigo l Barnes&Noble
Synopsis from Goodreads:
Around the world, black handprints are appearing on doorways, scorched there by winged strangers who have crept through a slit in the sky.
In a dark and dusty shop, a devil's supply of human teeth grown dangerously low.
And in the tangled lanes of Prague, a young art student is about to be caught up in a brutal otherwordly war.
Meet Karou. She fills her sketchbooks with monsters that may or may not be real, she's prone to disappearing on mysterious "errands", she speaks many languages – not all of them human – and her bright blue hairactually grows out of her head that color. Who is she? That is the question that haunts her, and she's about to find out.
When beautiful, haunted Akiva fixes fiery eyes on her in an alley in Marrakesh, the result is blood and starlight, secrets unveiled, and a star-crossed love whose roots drink deep of a violent past. But will Karou live to regret learning the truth about herself?
My Non-Spoiler Thoughts
This book had me hooked from the very beginning. Near the end I was at the perch of my chair; I had to know what had happened.
The book starts off with Karou as she is "attacked" by her ex-boyfriend Kaz on the way to her special art school in Prague. Yes, that's right this book takes place in the Czech Republic (which I am going to this summer!). We find out that the drawings of Brimstone and friends in Karou's sketchbook are real and that Karou can cause things like annoying tourists to leave her and her best friend Zuzana's special table with just a wish and a bead that disappears. When odd marks on the doors Karou takes to get to Brimstone's elsewhere start appearing the story gets going and Karou begins to find out who she really is. And let me tell you, I was very surprised at the ending with what we find out.
What I liked
Where do I begin. Many reviews I have read while doing my research on whether to get this book or not, reported that they loved the beginning half but the last half bored them to bits. I on the other hand felt the beginning was great like everyone else, but I loved the last half. The way Laini wrote it made me feel twice the anticipation I would normally feel. I loved this fresh style of writing.
Now, to the MC, Karou, who has blue hair that makes me jealous. Also she can draw which is amazing. Normally I relate and emphasize with the MCs, but in this book I craved to be her. I wanted her life, I wanted to collect teeth for Brimstone even though it may be strange and dangerous at times, I want to live in Prague or anywhere I could dream of and speak any language I wished. I wish I were Karou.
The chimera were my second character craving. What would it be like to be part animal, I sure would love to know. And since chimera are being mentioned I should add that I honestly pictured them all cuddly and cute like children s stuffed toys. Even Issa who I should be slightly fearful of seemed adorable in some odd way.
Lastly (even though there seems to be no end to what I loved about this book), I enjoyed the way this book left off, so it made me sad and slightly upset, I knew the next book would make me feel better. I feel as though it is like that twist at the end of City of Bones, surely it couldn't be fully true. This was a great leader into what I hope to be one of my new favourite series.
What I didn't like
There is only one thing I did not like about this book. It is a spoiler in a way so advert your eyes to the next paragraph if you do not want to be spoiled (though it isn't anything too bad). The thing I did not like was how Madrigal and Akiva met. Well, the beginning of their relationship felt odd. And some things like the reason why she didn't kill him didn't fit with her character (she is a warrior, mercy didn't suit her). It was just a small detail that could have been fixed by a little inner-head battle between heart and brain. Brain should have been mentioned more in that scene.
Overall I definitely would recommend this to my friends, family, neighbours, teammates, etc. Of course, this book is best for those who enjoy fantasy and blue hair MCs. This book can be compared to no other book I have ever read. It is unique and ever enticing. Give it a try and tomorrow you will be on a plane to Prague (I will be in two weeks). I love this book so much, and I cannot wait to begin the second, Days of Blood & Starlight.