The Notebook Sisters are celebrating their three year blogoversary. I decided to participate in their tag and you should too. Check it out HERE.
On to the tag!
1. Just Alice: What book cover(s) has made you super curious?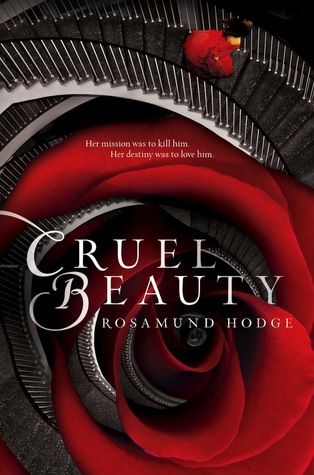 Cruel Beauty by Rosamund Hodge- that spiraling staircase shaped like a rose really draws you in. I wanted to know more about it and how it related to the story.
Pawn by Aimee Carter- The eye peering through the circle with III in it's pupil made me want to know more.
---
2. Mad Hatter: List the craziest character(s) you've ever read.
Parker from Cracked Up To Be by Courtney Summers
                                           Nick from Hate List by Jennifer Brown
&
Prophet from The Chosen One by Carol Lynch Williams
3. Red Queen, Off With Your Head! What book have you felt like beheading?
Allegiant by Veronica Roth (That ending)
4. White Rabbit: What books or series have been insanely popular but you've been "late" to pick them up?
The Lunar Chronicles by Marissa Meyer , The Grisha series by Leigh Bardugo
I have the first book in both of the series.
5. Caterpillar: What's the most confusing book you've read?
To Kill A Mockingbird by Harper Lee
and
My Left Foot by Christy Brown I was not aware for most of the book that this was an autobiography of someone with cerebral palsy.
6. Dormouse: What was the last book that sent you to sleep?
In Too Deep by Jennifer Banash I was so bored reading it that I literally fell asleep reading it.
7. Cheshire Cat: Book that made you laugh and smile?
My Life Next Door by Huntley Fitzpatrick
8. Knave of Hearts: Most recent character who stole your heart?
Jake from Cracked Up To Be
9. Jabberwocky: Best villain you've read this year?
King Leck from Graceling by Kristin Cashore he was just so well written and I enjoyed learning all about him and his back story in all of the books. 
10. Down the Rabbit Hole: What's the latest book/series/author that's completely swallowed your interest?
Author Courtney Summers, I read her book What Goes Around, which is a mash up of two of her books, and I must say I really enjoyed her writing. I would completely recommend her books to people who love John Green and Perks of Being a Wallflower by Steven Chbosky
I want to see your tags as well so please link them in the comments if you do it!
Also check out my giveaway, the paperback copies has ended, but the ebooks are still up for grabs. It's international too and a great YA read!