Waiting on Wednesday is a weekly meme hosted by Breaking the Spine,
which spotlights upcoming releases that we're eagerly anticipating!
I Can't-Wait-To-Read
Rivals In The City by Y.S. Lee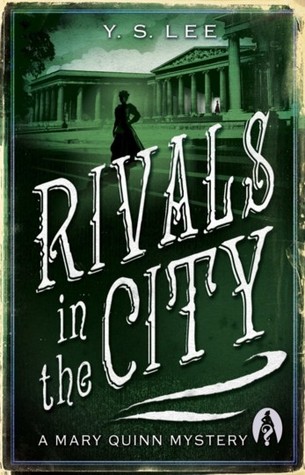 Publication date: June 5th 2014
Since it is the 4th book in a series, I will post the goodreads synopsis of the first book and link this books below.
Introducing an exciting new series! Steeped in Victorian atmosphere and intrigue, this diverting mystery trails a feisty heroine as she takes on a precarious secret assignment.
Rescued from the gallows in 1850s London, young orphan (and thief) Mary Quinn is surprised to be offered a singular education, instruction in fine manners — and an unusual vocation. Miss Scrimshaw's Academy for Girls is a cover for an all-female investigative unit called The Agency, and at seventeen, Mary is about to put her training to the test. Assuming the guise of a lady's companion, she must infiltrate a rich merchant's home in hopes of tracing his missing cargo ships. But the household is full of dangerous deceptions, and there is no one to trust — or is there? Packed with action and suspense, banter and romance, and evoking the gritty backstreets of Victorian London, this breezy mystery debuts a daring young detective who lives by her wits while uncovering secrets — including those of her own past.
Goodreads for Rivals In the City
---
Why am I excited?
A couple years ago I bought the first book in my series on my kindle after being recommended it to me by a girl at school. At first I was apprehensive, but then I was hooked. I love stories where it is a woman kicking butt, and this book features an amazing female protagonist. It is also set in the past and in London, making it unique having woman being so powerful.
I have been awaiting this book for a long time. The previous book ended on a note that made me very anxious to get my hands on the next book. I won't say what it was because, spoilers.
What are you waiting for this Wednesday?
Oh, and check out my Giveaway it is International!